What's better than one OBS? Two, of course! Truck is a 1990 GMC Sierra SLE, single cab, short bed, 5.7L 350
Truck belonged to my girlfriend's late grandfather, who used it to haul things across his yard, drove it back and forth to church, and drove it to the gas station for snacks. That's it. After he died, my girlfriend's mom used it to haul dirt for gardening and as a backup vehicle until it died 2 years ago, and ever since it has sat in her driveway. Body is pretty straight minus a massive dent in the passenger fender from someone kicking it, and I'll probably just beat it out with a hammer. Interior is trashed and the (broken) odometer reads 90,088, but miles are more accurately around 95k.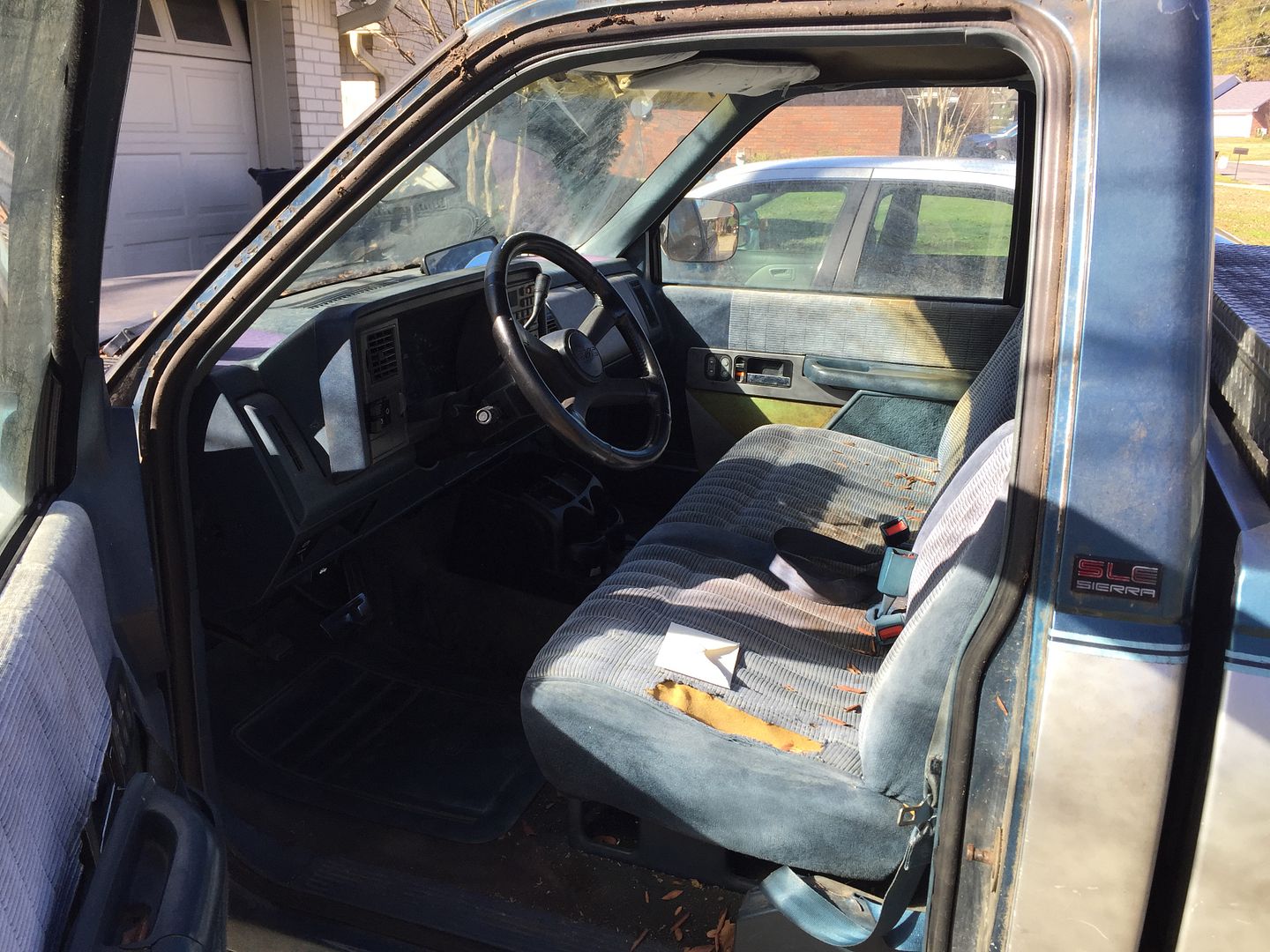 Before buying it, spent a couple days trying to resurrect the dirty 350 since it hasn't run in over 2 years.
The first bad sign was that there wasn't a lick of coolant in the radiator. Cool. Filled that up and checked the oil. Oil looked like black tar, so I put in a couple quarts of fresh 5W30 and checked all the hoses, put fresh gas in, charged the battery, made sure everything looked ok, etc. After looking everything over numerous times, decided to try to crank it. Truck started right up despite not running in over 2 years, and all the gauges seemed to work except the temp gauge was completely stuck being spiked. Wonderful, another bad sign. Got out and walked around the truck to see this.
Truck was absolutely spraying for mosquitos. White smoke at idle and blue smoke with throttle. Then, I heard a POP under the hood to find the heater hose exploded and coolant leaking everywhere. Bingo.
Replaced the heater hose with a brand new one, and drove the truck around the block after filling up the radiator with coolant once again. Smoked like a paper mill, but engine sounded and felt healthy and powerful. Parked it again, no coolant in the oil, but bubbles and oil in the coolant. Blown head gasket no doubt. I got the registration and title today, and truck will be coming home Saturday or Sunday, where then it will be washed, put in the garage, and compression test followed by slow engine rebuild will ensue.
PLANS:
Get it running correctly
Cam/ stall
Long tube headers
3in exhaust
High flow cats
Carven R Performance muffler
Slammed 5/7
Wheels undecided
Keep og patina
Drive the hell out of it and get mean looks
TL;DR: cheap truck, ugly as sin, blown head gasket
Sent from my iPhone using Tapatalk