Well I am finally getting around to starting this thread. Ive been super busy working on this truck so I havent had much time to do anything else.
A little over a year ago I had this: 2003 Z71. 6in procomp 3in body on 36in iroks. Pretty standard issue around this site
I started getting the bug to start tug-a-truckin and I knew it would need a lot of work and money and thought why not just get an 8.1 and start with a beefier platform? So I traded my Z in on this: 2001 2500HD 8.1 w/ ally.
Since then I have been saving like crazy and sold my snowmobile, also am trying to sell my quad.
A guy in our truck club had a 79 Ford Dana 60 HP w/ 4.10s and I snatched it up for $800. Heres what it looked like.
I had a friend of mine go through the axle and check it all out and replace the things needing the most attention. Once the axle was cleaned up and close to being ready to go in I started spending that moldy money.
Here is the parts list as far as I can remember:
ORU-
+6 kit w/ 8in springs
sway bar kit
sye (still waiting on that)
trac bar ext. bracket
11in rear springs
front u bolts
braided lines front and rear
crossover steering kit
6 bilstein 5150s
4 blind sector shaft
other stuff-
GM 4.11 ring and pinion for rear 11.5 (waiting till this winter)
master install kit
dana 60 master overhaul kit
16x10 black procomp steelies to put my old iroks on
ruff stuff ubolt flip kit for rear
new perches for rear
new calipers and rotors and pads for front. and hardware kit
new calipers and pads for rear (broke bleeder screws)
new tie rod
kingpin rebuild kit
new shock tabs for rear
new studs and lug nuts for front
misc nuts and bolts and fluids
Im sure there is more but i cant remember at this time.
here are some of the parts laid out ready to install:
Now some teardown and progress pics. I didnt take very many so sorry its kind of lacking. It was a very frustrating process for various reasons and I wasnt ever in the mood really to take pics.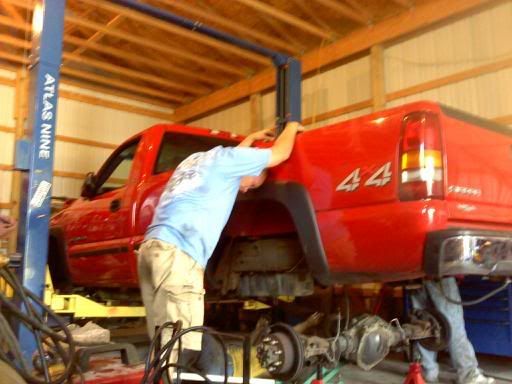 It took a full weekend then two weeks of working on it after work (had to drive an hour each way to my friends shop where it was) to get it drivable. More pics, sorry all of my pics have been with my phone...