Hey everyone
I am not new to forums, or even nee to automobiles. Iv grown up and spent a lot of my time (and money) on cars. My grandfather used to drag race, and owned a machine shop. My father has been a mehanic his whole life as well. Its in my blood, its a passion of mine I hope to one day pass on to my offspring.
Ever since 2007.5 when I first saw the new style sierras and Silverados I knew i had to get one. Two years ago I went and purcased a 2011 GMC Sierra sle 4x4 for a screamin deal.
The Truck
It came with a 5.3l aluminum block v8 LC9 with the cylinder deactivation. Behind that is a 6 speed automatic 6l80e. There is a factory heavy duty trans cooler rpo KNP. The transfercase is an mp 3024 two speed switch actived rpo NQH. The front differental is a standard duty 1500 front diff with a 3.42 gear ratio. There is a surprisingly huge driveshaft which goes back to the g80 rear with positrac limited slip and 3.42 gear ratios. It was good on gas, kinda a dog though. It has offroad skidplates/ sport skids rpo NZZ.
The outside of the truck came painted Sheer Silver. Black door handles and a black tailgate handle. The grille was black and had a chrome grille surround. The front and rear bumpers are chrome. I added a t rex billet grille i got on sale. I installed it after cutting the existing grille out with a dremel. Looks very nice and accents the smooth look of not having emblems.
The inside of the truck came with gm rubber floor rpo BG9, something i absolutely wanted. I hate carpet and this is easy to keep clean. It has ebony interior. The all black looks really good. It has a different cloth on the seats. It not like the fuzzy soft stuff I have seen in others, it is smooth. The titanium roof has a deluxe console and two lighted vanity mirrors. The steering wheel is wrapped in leather from factory, it makes it feel more premuim. It has the premuim sound system (not bose) with the standard am/fm cd player. Sounds nice actually. It has heated rear window and the heated mirrors. Power windows.
The truck came with suspension provisions according to the build sheet for heavy trailering and it has a heavy duty reese tow hitch from gm.
Mods
I live in Canada. Since our dollar sucks mods are put on hold unless on sale.
Real cold air intake- Using an aluminum tube made by a performance muffler shop in town, and some silicone couplers, I removed and replaced the factory tube. It keeps the big paper filter, gets air from outside and has the benefit of improved flow through the tube. Sounds neat too. I use a high flow paper filter for dust reasons.
Exhaust- The first thing I did was remove the resonator and muffler. I put a pipe in place of the resonator and a short round magnaflow before the axle. In anticipation for headers (which got pushed back) i got the cats removed. It was deadly loud, and sounded raspy as hell. Added a second magnaflow after the y pipe at the engine. Sounds perfect.
Tuning- There isna guy in town to dows custom tuning on the new gm trucks. He runs a gm performance shop and did a tune for me. He worked on the mods i did like the intake and the exhaust, as well as tweaked the engine timing and stuff a bit. He then worked on the transmission. It will snap your neck shifting If it hooks now haha. He completely removed the torque managment.
Exterior styling- i removed all the trim, badges and decals. I like the smooth look. I also added a 24 inch light bar in the bumper hole to see those pesky deer. I also blacked out the rear wheel wells with undercoating. Looks much better. I blacked out the tail lights using tint and a clear coat with a hardener. I wet sanded the lights down, used an adhesion promoter, and sprayed them with a tint. When they were a little darker than i wanted them i wet sanded them. I then sprayed them with clear that had hardener. Looks very glossy.
Interior- added the DIC unit that I bent over for at gm. Its a nice touch. I added a clarion nx702 as a headunit and put a 10 inch down firing sub inder the rear seat. Not high performance but nice quality sound.
Lowering- i learned a lot from this. I was searching and came across street edge. I did some reasearch and found out that it was just rebranded belltech. So i bought it. Decided to make the front 4 and the rear six. So i flipped the rear to 6 and that turned out great, still need to install shims. Small vibration from a stop). Installed the front lowering spindles and flipped the strut under the control arm for almost 2 inches more till i can order front and rear shocks. The truck sits as i have a crap car daily. I learned a lot about the front for deopping since doing the "belltechs" and i will redo it all with different parts later(i just didnt do enough research). I am going to get mcgaughys exterme lowering spindles this time. They are meants for dropping even more. Less stress on parts and less harsh angles.
Future mods
As time goes by and money comes in this is a list of mods i want to do. Things may change or whatever who knows.
Camshaft- reminiscent of the old times, camshafts that make that lumpy idle are unmistakable. They sound good, and on these cathedral ports, a big lift cam is nothing. I will replace the lifters, dod gasket and all that in my garage.
Forced injection- I like how the procharger performes and sounds. Turbo technology has come so far though a small dual setup might be what i am looking for. Whether i go forced or not will determine my camshaft.
Exhaust- long tube headers and a dual exhaust system will compliment the engine. I will play around with muffler placement and other things to achieve the sound and performance i am looking for.
Stall- based off cam spec a stall will be chosen to work with the power range of what the engine is deisgned for. Hoping to stay down a little lower in the rpm range so a stall might not be needed with the right fi/cam. Only time will tell at this time.
Rear end- mines gunna blow up. I know it is after the abuse i have given it. I am tossing around the idea of a 3/4 ton diff or building mine up. I want to swap over to some 4.56 gears instead of the economy 3.42.
Suspension- i need to totally rework the front, ball joints, tie rod ends and the other spindles are a must. I dont exactly trust the belltechs with 4 inches of drop. A c notch kit with airbags will be in the back so i can still tow a trailer as i cant right now. Traction bars and a rear sway bar are going to be installed for improved performance.
Exterior- this will be the last of the work i will do i think. As a whole paint job will probably be needed moght as well wait till the end to be safe. I will get ride of the door handles, tailgate handle, tailgate cap and have a smooth skin on the tailgate. Fill in the pockets on top of the bed. Rollpan welded and smoothed. Repaint I guess will follow. I want to keep with the smooth styling and get this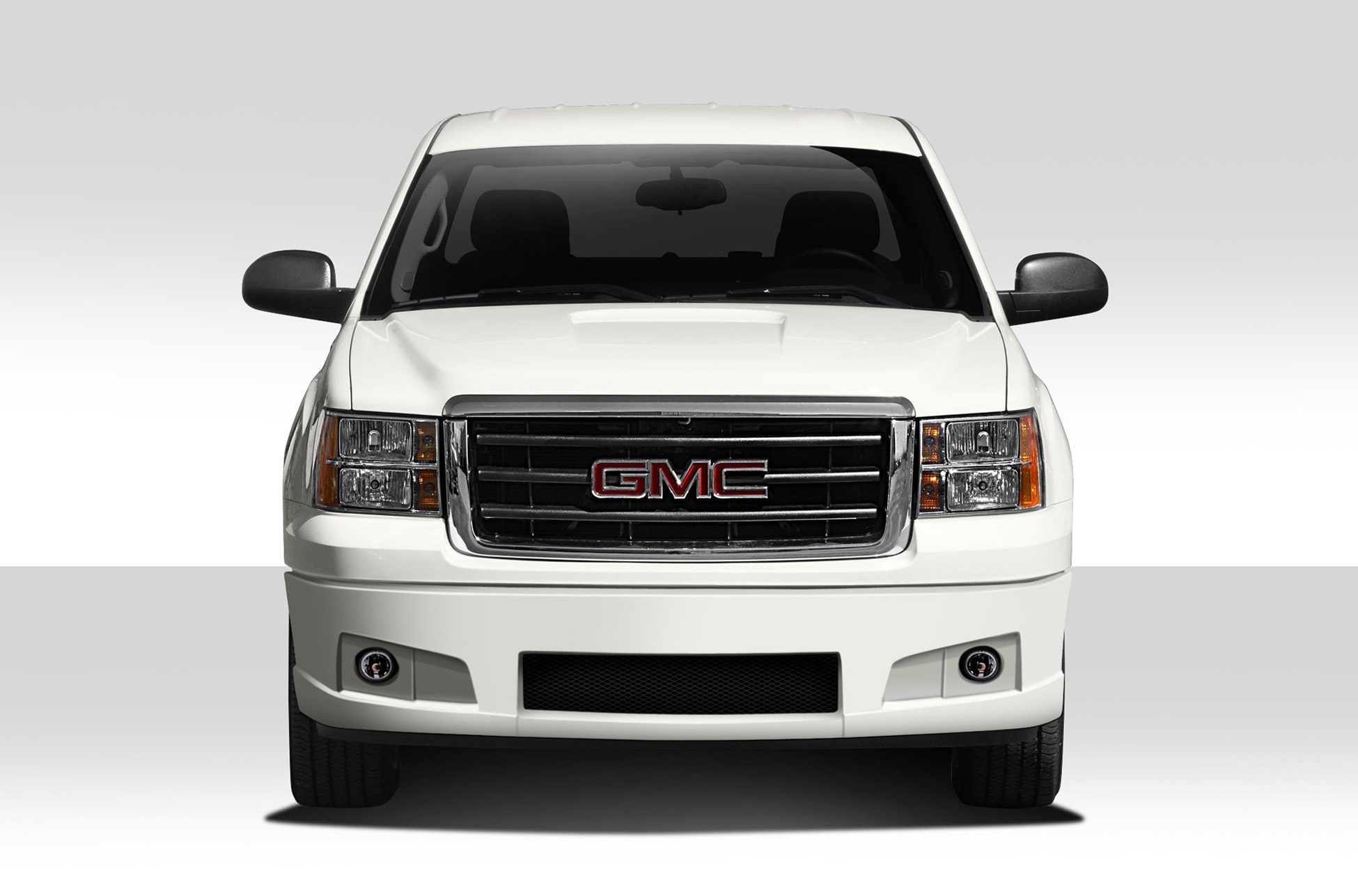 I will paint to match the grill surround. I also want to eliminate the third brake light and put led lights inside the bed for lighting.
Headlights- i want to get a set of headlight to crack open and modify. Tint the side marker, ptm the chrome, turn signals satin black. Dual retrofit projectors or one projector and a custom fit lightbar or pod where the high beams are. Even tossed around just tinting them. Thats not enough though hah.
I want to get a hood, and modify it. Take out the double hump look and make it look like one big hump. I will do this by cutting some metal out inbetween the two humps, replacing it flush with the humps and body work. If that makes and sense.
I want to get the headliner done in black and the pillars died black to finish the black out interior look. Pods gauges along the one pillar of course and i want a push button start for novelty. I want to get rid of my three cupholder jumper seat for a console from an lt2. I dont like the thirdt seat. Katskins leather for all the seats is next and i am going to take the leather bit the the three cup holder from the kit and use it to cover my dash hood over my cluster.
Next up will be some 22- 24 inch satin black five spoke rim. I like how they look on these trucks. Only rim i can see fitting. I want to put as fat of rim and tire i can get away with in the rear. As long as the front and rear are the same height in the end the width difference should not matter.
This will be changed and i am sure i have missed a lot.
Thats things so far with the truck hence smoothsierra. Hope to meet some interesting people here.
Last edited: