Jan 24, 2011
1,856
236
63
Zach messaged me about making a thread on the front suspension kits available for the NBS trucks to talk about pros and cons to each kit. So I took his interest and decided to do a thread and also make instill some info on suspension geometry.
First up is the proper design of a control arm suspension. The upper arm will be shorter than the lower arm and the distance between upper arm and lower arm frame mounts will be shorter than the upper and lower ball joints. This will keep instant center for each wheel on the opposite side of the wheel. this way your roll center will be a few inchs off the ground.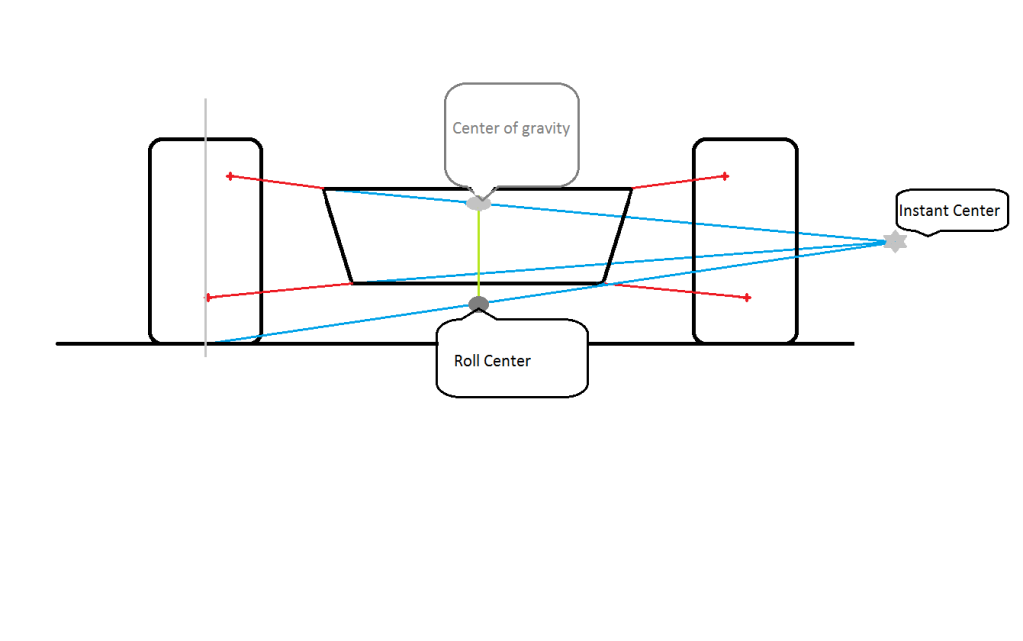 if you begin to raise the upper arms to eliminate camber, you will cause bad geometry and have a terrible handling truck even if lowered. You can raise the arms until you get close to the point of being parallel. once that happens the instant center becomes so far away from the vehicle that it is virtually nonexistant and the roll center raises causing more body roll.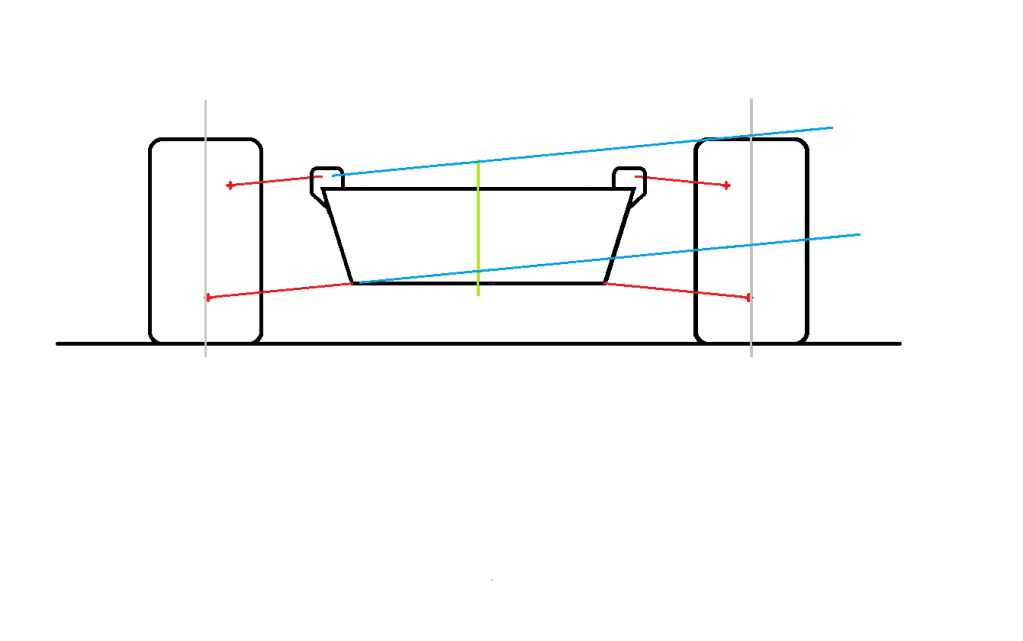 If you raise the arms too high, where the distance between the upper and lower arm frame mounts is greater than the upper and lower ball joint distance, you cause the CG to be higher and the instant center for each side to be on the same side. this puts the roll center below the ground causing the truck to seem very top heavy even though it is lowered. The higher the arms are lifted, the more severe the handling will be.
It is also very important that the upper and lower arms are NOT even length. This keeps the load bearing tire from rolling as much as the body does when turning. For example, a proper, uneven length arm setup will allow the load bearing tire to move only 2* while the body may roll 5-6*. This will give much more even tire wear as well as give much better traction while turning.
I will be updating my post with MY OPINIONS on front suspension setup's for the NBS trucks. reason I emphasize my opinion is because I don't want to have a bunch of arguing about me being right/wrong about them.
I will start with the ones I am most farmiliar with
All of these kits require the spindle to be reamed for the lower ball joint to come through the bottom
Unparalleled Customs
Cody Eastman has started making his own kit available on the internet. I've been communicating with Cody from the very beginning when he started to cut up his truck. His kit is a nice, Beefy kit. It uses 1" uniball uppers and lowers made of 1.5" DOM tubing and comes with shock mounts, bag mounts, heim steering and relocation tabs. arms narrow the track width 1" per side. add a set of bags right there on the site and pick up a set of shocks and your done. This kit doesn't require buying a special reamer bit either, just drill the upper and lower ball joint holes out with a 3/4" drill bit and you're done, the tierod mount requires a 5/8" drill bit.
Priced at $1200, it's a damn good deal, considering you will never have to grease anything on your front suspension anymore.
http://www.unparalleledcustoms.com/99-06-fullsize-chevy-1-2-ton-front-kit/
Nfamus Air Suspension
Their kit is extremely nice and gives bag mounts, upper and lowers, upper arm tabs and heim steering. there's not much out on this kit but I believe it narrows the track width 2" overall. This will require the same amount of work as the MMW kit but is a little cheaper at $1100.
http://www.nfamusmetal.com/99-06-chevy-front-kit-1/
Ekstensive Kit
This is by far the easiest kit to install and comes with everything you want. again 24's on stock spindles and 26's and 28's on 2508's. upper and lower arms, heim steering, shocks, and bracket. The bracket has all the tabs welded on and is very simple to install. the track width is narrowed 3" with this kit. It is a little more pricey ant $1100, but for a good product with very simple fabrication skills needed this is the way to go.
This kit has had reported issues with the shocks, heims and upper ball joints
https://www.ekstensive.com/store/pr...ucts_id=287&osCsid=s09sc9udedkvosqnlu90gi8p71
MMW (Michigan Metal Works)
With the Jeebus Joint upper joint and flat plate arms, the MMW kit is a very nice kit to look at. 24's on stock spindles and 26's and 28's on the 2508's. The Jeebus Joint allows you more articulation than the standard ball joint and you don't have to worry about greasing or busting boots. You have to weld on all the upper tabs on individually like in the Nfamus Kit. So the fabrication skill set is a tad bit higher. Also the lower ball joint is moved foward almost 1", so measuring with the lower arm and spindle installed is recommended. This a little higher priced at $1200 since you get no shocks or steering components like the ekstensive kit provide. This kit narrows the track width 1.5".
Email Taylor at MMW or on here jeebus@mmw for ordering their same kit with upper ball joints and all steering components for $1150.
http://michiganmetalworks.com/store/index.php?route=product/product&path=60_65&product_id=103
Choppin Block
This kit was being priced at $1600 last time i checked with them. From what I can tell, they are nothing special. its about a copy of the Ekstensive kit. only difference is you are suppose to get spindles as well for that price. here's their site for contact information
http://www.choppin-block.com/contact.html
Stone Fab Califa (Specialty Suspension)
These guys have designed a very nice bracket for the low budget build on 29-32" tires. couple this bracket with the Belltech 2508 spindle and you have yourself a hell of a front suspension. These guys also have some other nice NBS specific parts as well
http://www.specialtysuspension.com/1999-2006-GM1500-UPPER-BAG-MOUNT-_p_437.html
Control Arm options using stock mounting points
Stock arms with flipped uppers and McGaughy 16" drop spindles are a cheap and effective front setup as long as the wheel and tire combo isn't very large. 29" is the biggest I would go on a set up like this. This keeps all you suspension geometry intact and working properly.
RideTech Strong Arms (ART arms)
ART arms are designed to keep extremely good geometry at lower ride heights. The track width is narrowed ~1". The ball joint angles have been tweaked a little to provide better movement without binding up in the cycle they are designed to work in. which is not laying out. These arms will be an improvement over stock arms and they will provide a nice advantage if you use the McG 16" spindle. Of course on these arms, you will not be able to use the spacer to get full 2" of drop out of them. This is still a big help to those wanting the best overall suspension geometry while laying. Going with a set of these for your 22's would be perfect. Going bigger than that will cause a little more camber than desired but as long as you're keep your set ride height in mind when driving, tire wear shouldn't be an issue. At $1000 they may seem pricey but that's about the norm for a good quality set. You get no shocks or shock tabs with these
http://www.ridetech.com/store/trucks/?subcats=Y&features_hash=V287.V32
MMW budget arms
Like the front kit, the budget arms are also flat plate arms. These arms are very good for 29" wheel and tire combos. The advantage over the Strong Arms is mostly just price. At $700 (raw) or $800 (pc'd) they are cheapest of the straight bolt in arms that are worth anything. You get no shocks or shock mounts with these arms
http://michiganmetalworks.com/store/index.php?route=product/product&path=60_65&product_id=112
KP Components LayArms
KP Components is now offering front suspension setups for trucks to get the front laying as well. These arms are good quality arms. I recently got to look at the actual NBS set of arms since the website doesn't show the actual picture. The arms look quality and they offer a bunch of different options for their setup. You can order it with/without bags, with/without sway bar, with/without drop spindles, and you can upgrade the standard shocks to single or double adjustable Varishocks. The only down side to the kit is price. The basic kit which has arms, bag cups, shock mounts and shocks is a whopping $1229. That's extremely high for something that isn't going to be much better than any other set of arms.
http://www.kplinks.com/product.php?productid=384&cat=104&page=1
Now I'm going to move on to the companies that sell their arms on the slogan "lay out on 24's". this statement is the most misleading statement there is. You can lay the truck on 24's on factory arms. If all you are concerned about is the way your truck looks laid out, I.E. show truck, just build some long uppers and be done. Don't expect anything else out the truck but to look good laid out though.
Choppin Block
These arms have a reputation that has followed them since they came out. Ask anyone that's used them and they will give the phrase, "they're pretty much a tubular factory arms". You get no narrowed track width to help tuck the wheels and from my emailing with them, they aren't the best at customer service. Again $800 is cheaper than most arms, but I would spend a little extra money and get a better set of arms.
http://www.avsontheweb.com/product.php?productid=738&cat=478&page=1
Cando Specialties
These arms aren't talked about as much. They are a nice looking arm, but the upper and lower ball joint seems to be tweaked way too much. It will give you better camber laid out but will hurt the truck once you begin to lift it. The big downside is the $1000 price tag For just a set of raw metal arms
http://www.candospecialties.com/
DO NOT BUY FROM THESE 2 COMPANIES
Distinct Fabrications & Dallas Hot Rod Parts
Last edited: