Here we go yet again!
For those of you who follow my 98 dually thread or have seen elsewhere TLDR to the end. For those who are in the dark, I also have an 88 GMC K1500. We'll start with it's history. Grandparents bought the truck in 1988 brand new. It's a regular stepside K1500 350/700R4 truck in top of the line SLE Sierra trim inside and out. An off note, in 1988 the Z71 package didn't exist and the truck for whatever reason did not come with towhooks. What made the truck interesting is the RPO "Super Saver Package" that kept the truck as a SLE Sierra but stripped the interior down to the essentials: basic bench, AM/FM, AC and cruise. No tilt, no PWDL. In 2002 I received the truck with 88k on it (ironci!?).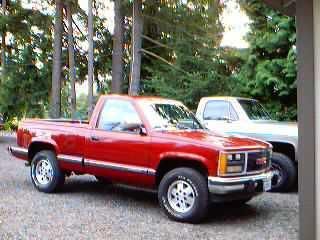 But it being stock didn't last long.
Being 16 the truck underwent many changes, a good amount of them cheap, free or made up by me being I couldn't afford much. A few were learning experiences, some stayed with the truck, and of course there were a few I am no longer proud of (such as altezza taillights and blue neon).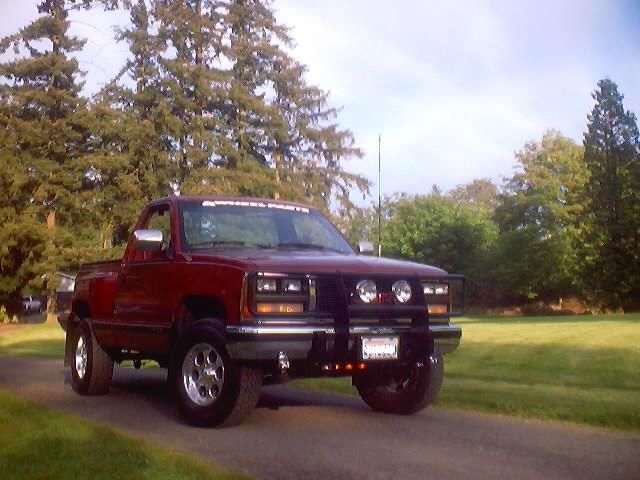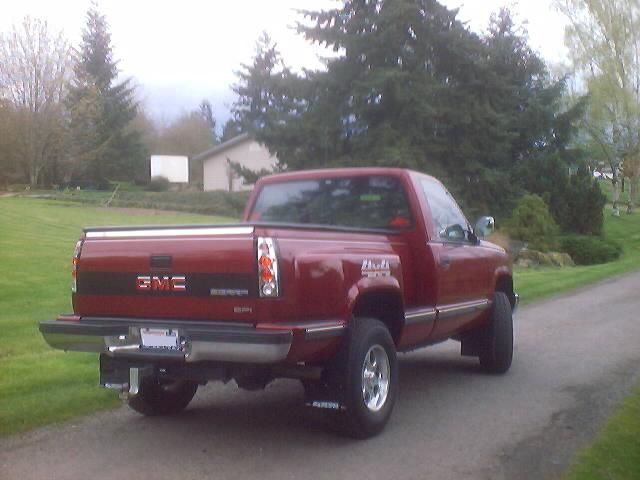 Due to the miles/age of the truck, I replaced lots of small things, waterpump, radiator, alternator twice, starter a few more times, etc. Eventually larger things like the rear end went out, and a few years later the 700R4 gave up the ghost. By 2005 I was in college and the truck IMO was looking pretty good.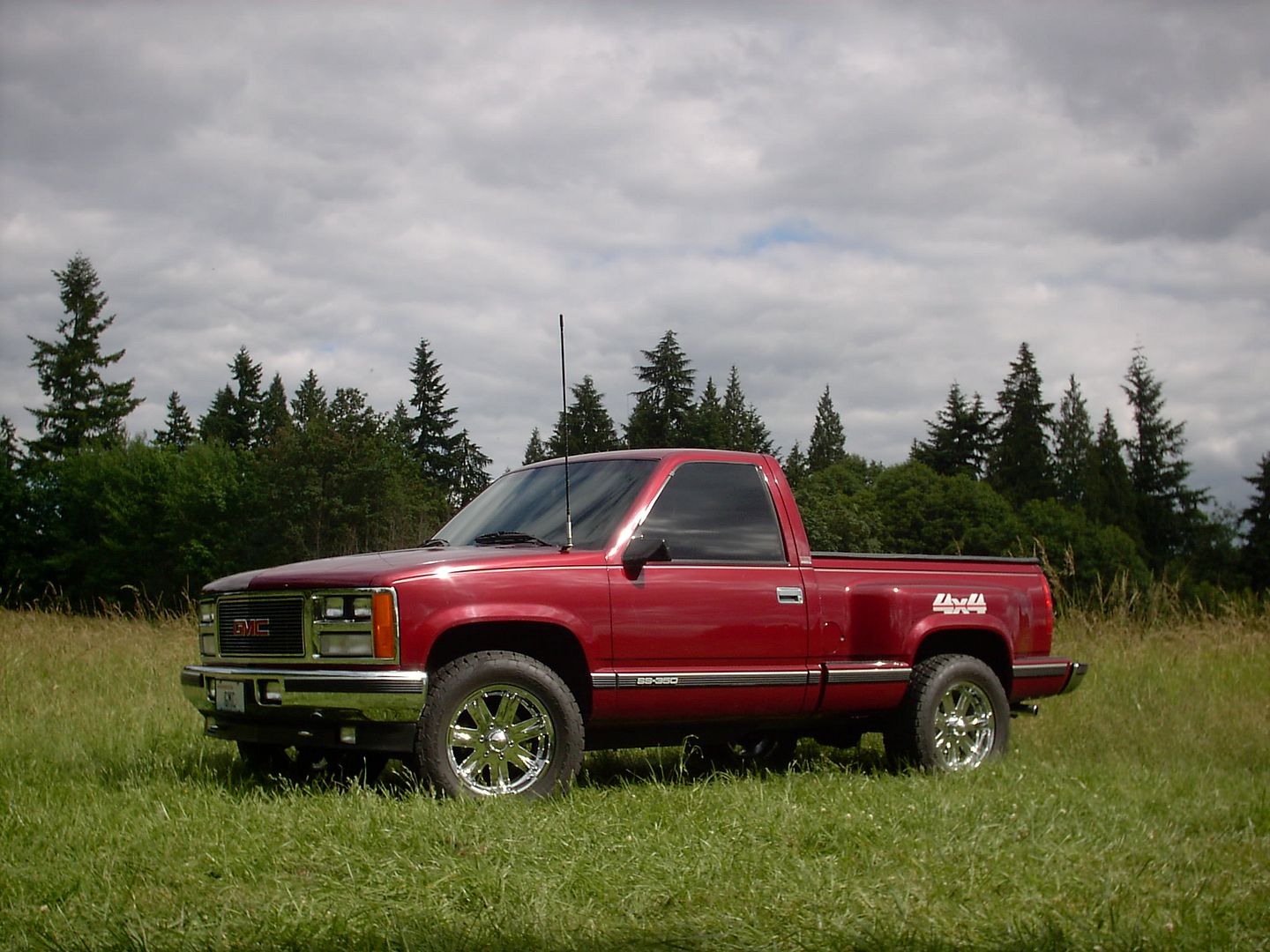 Seeing as I lived in a very snowy climate at college, I also picked up a winter set of wheels that also served as a good wheelin set.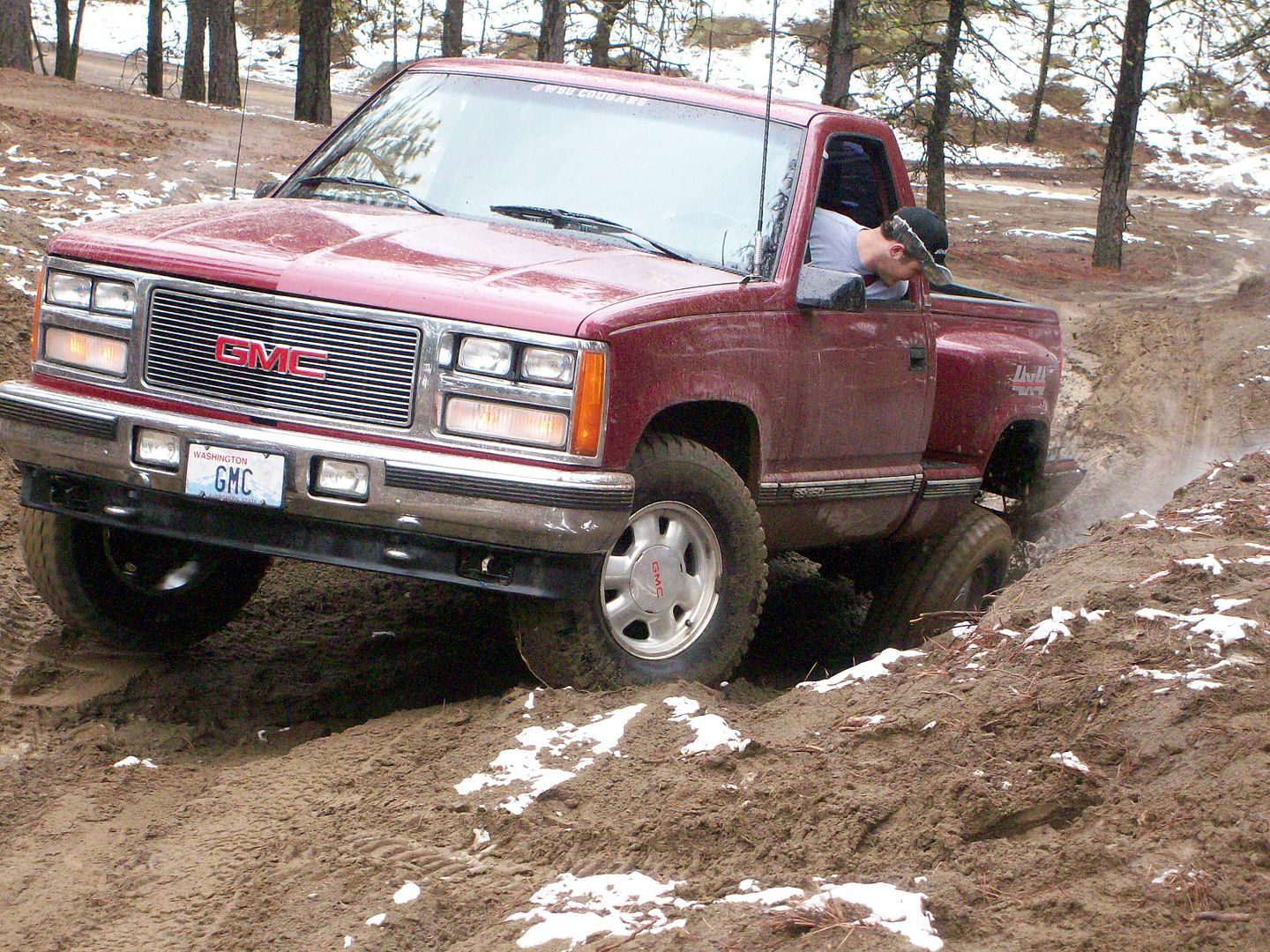 At this point the truck ate through a second 10-bolt and the addition of a 14SF was added. I always was into 4x4ing and my truck, so there was already tons of ideas in my head. Eventually I started making good money in the summers and in 2008 I picked up the 02 GMC. The front suspension in the 88 at this time needed a full overhaul, so about a week after owning the new truck I decided that rebuilding the suspension meant it was time to install a Dana 44 front axle. The parts collection began. A little cut here, a grind over there and a few welds resulted in 3 hard weeks working with my dad as much as humanly possible between work and sleep to convert this thing.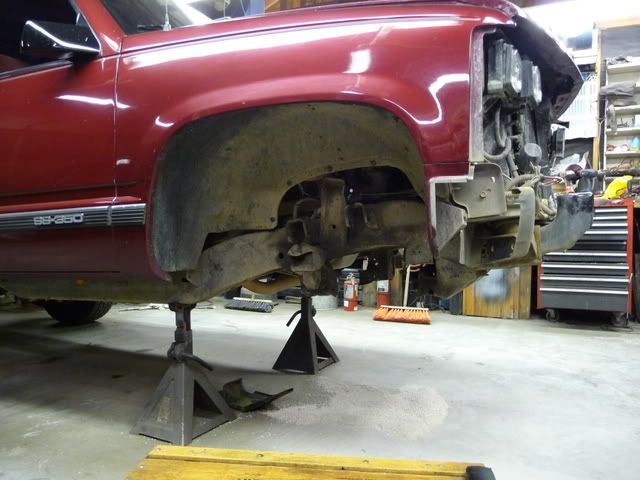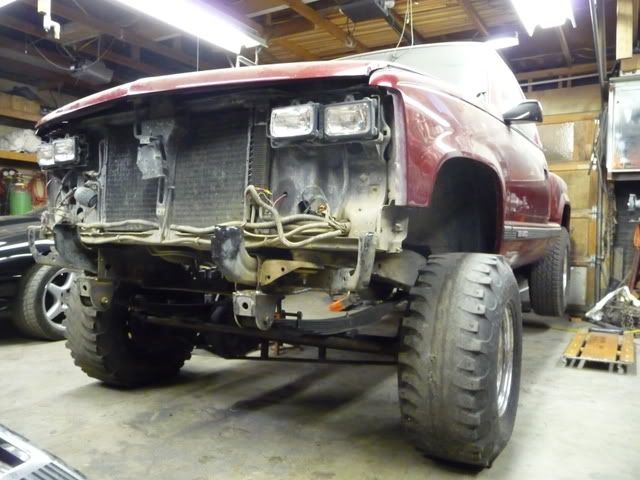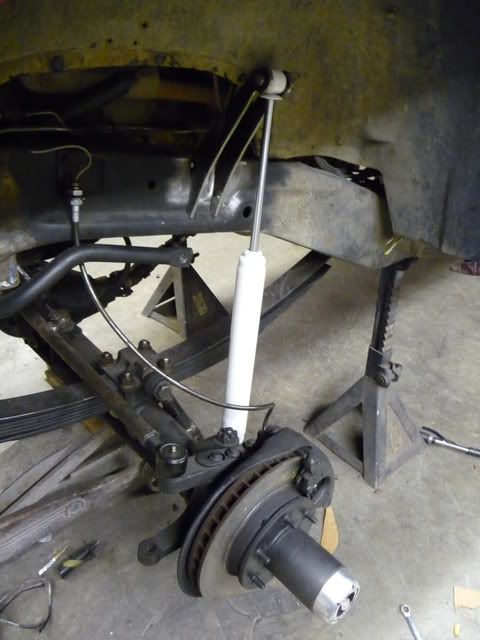 The result was 8" of lift while still being a very streetable, yet capable truck. There are a couple build threads on other not to-be mentioned forums, under the title "88GMCtruck's SAS Build Thread" for those interested enough to use google.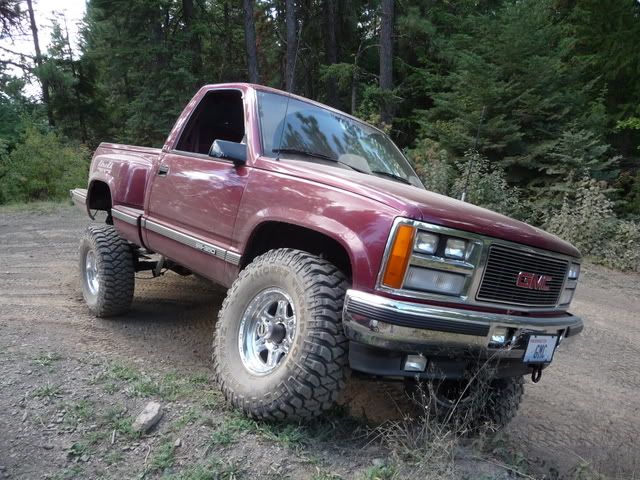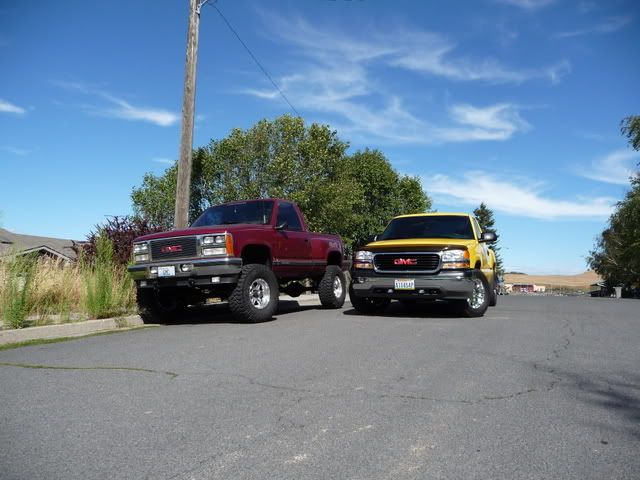 After a good deal of wheeling and driving later, this happened.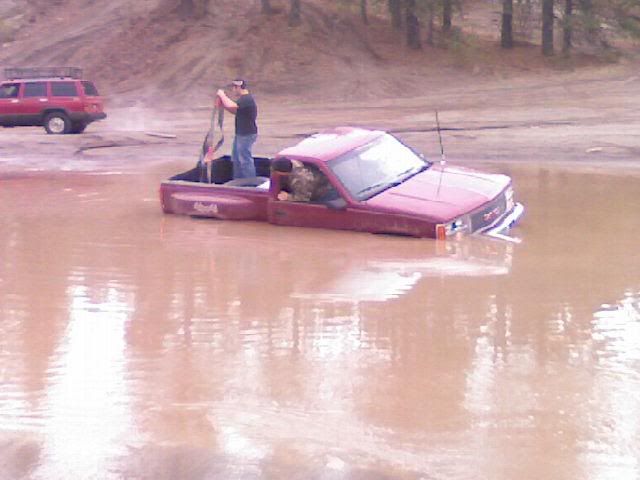 The Automatic didn't like it very much but it survived another 6 months. Then came cablights and stock mirrors sometime in 2009
My previous water incident ended up prompting this upgrade.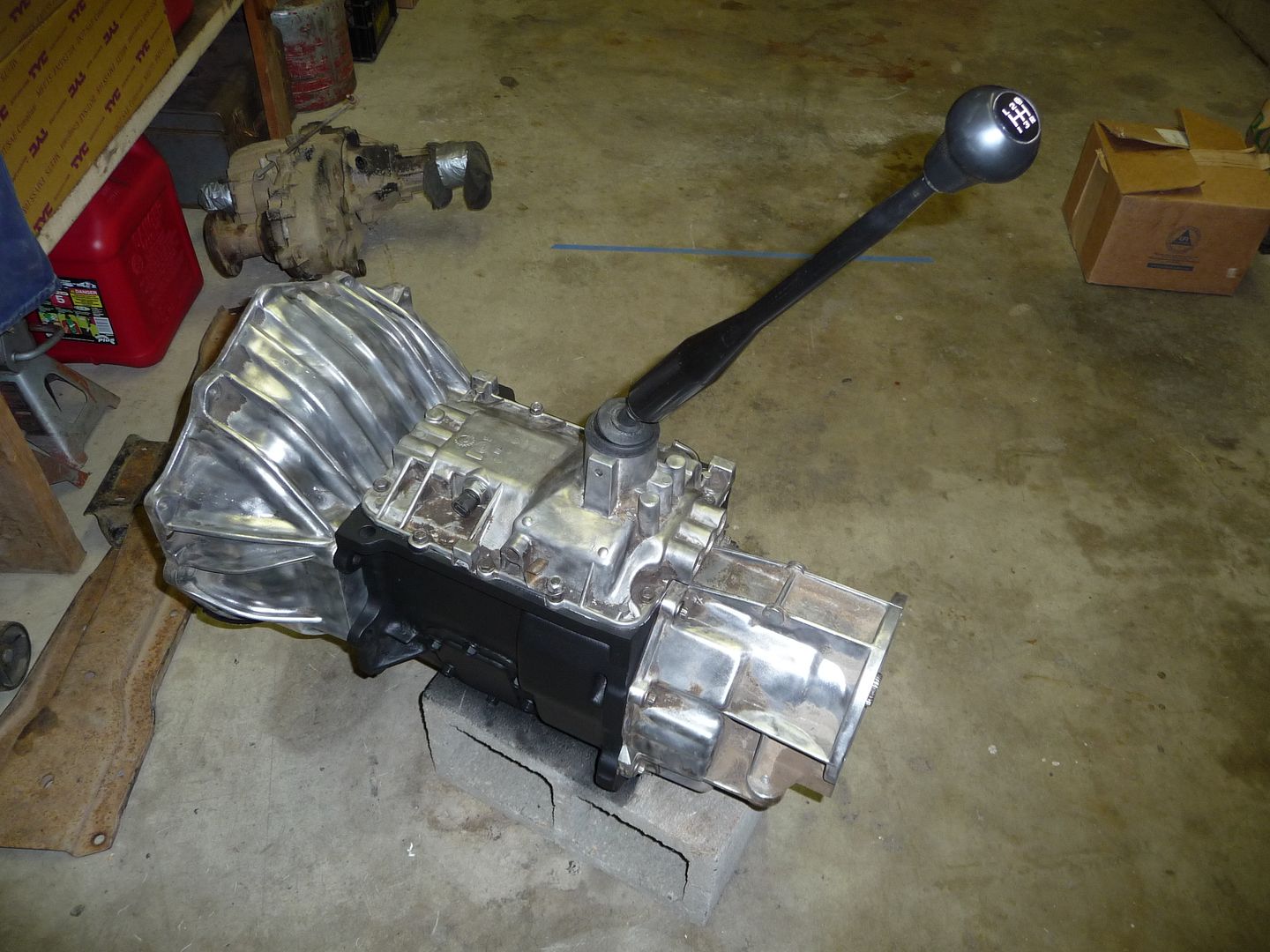 The summer of 2010 I bought a 1978 trailer for camping. Some of you have seen it's build thread elsewhere I'm sure, it was quite the project all in it's own. After towing it awhile, I finally did a much needed gear upgrade from 3.73s to 4.56s.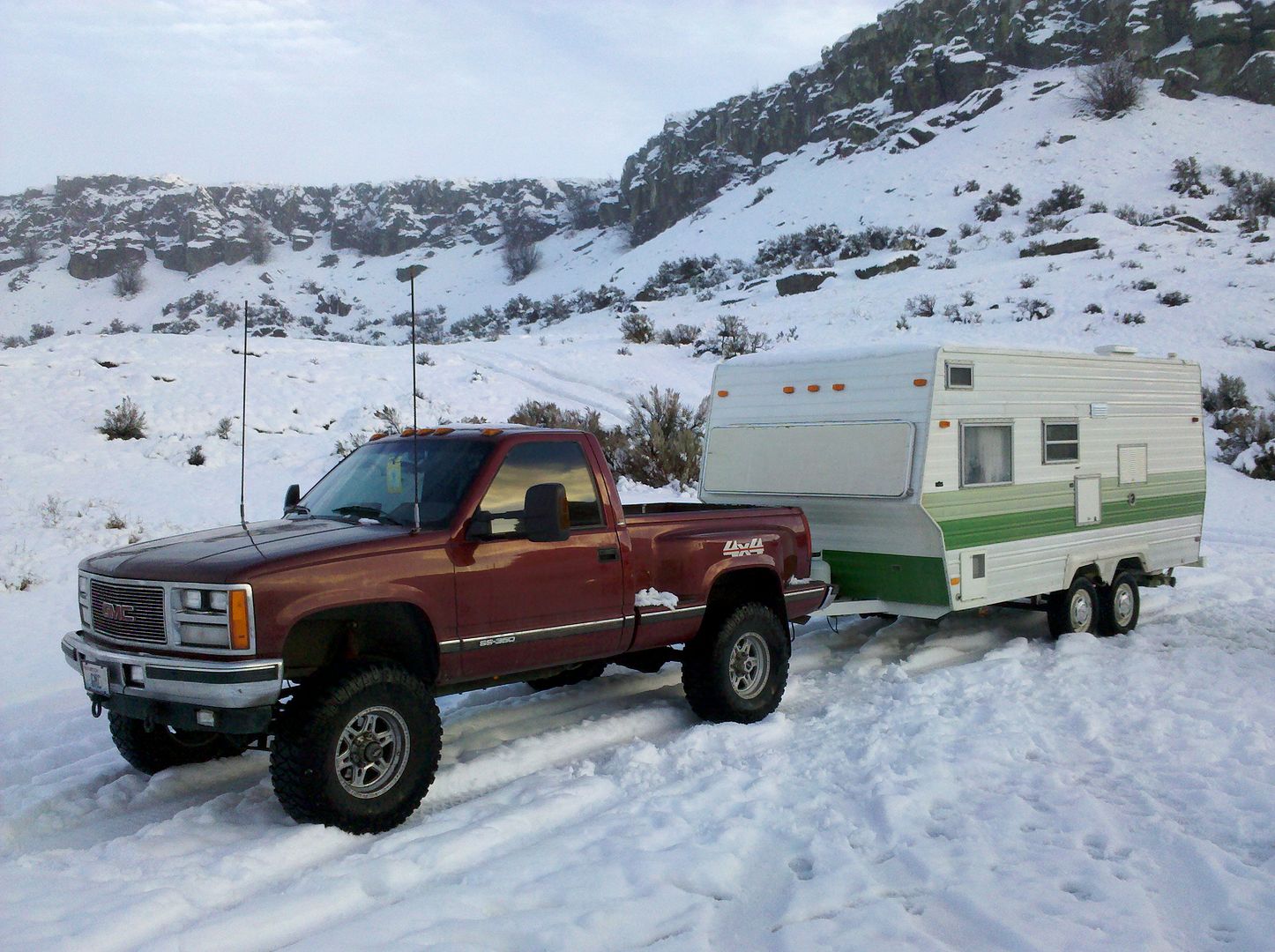 In early 2011 the 88 took a year long break from most use when I bought a 99 6.5L K2500 5-speed truck. It was a cool truck but in early March 2012 I sold it. At this time I was once again concentrating on this truck. It had at this point 200k on it, and was going back to trailer towing duties. I ended up converting it to 8-lug with hubs up front and a detroit locked SRW Corporate 14FF axle from a CUCV, and received a heart transplant in the form of a cammed Gen 6 Vortec 454 with a TBI on top of it.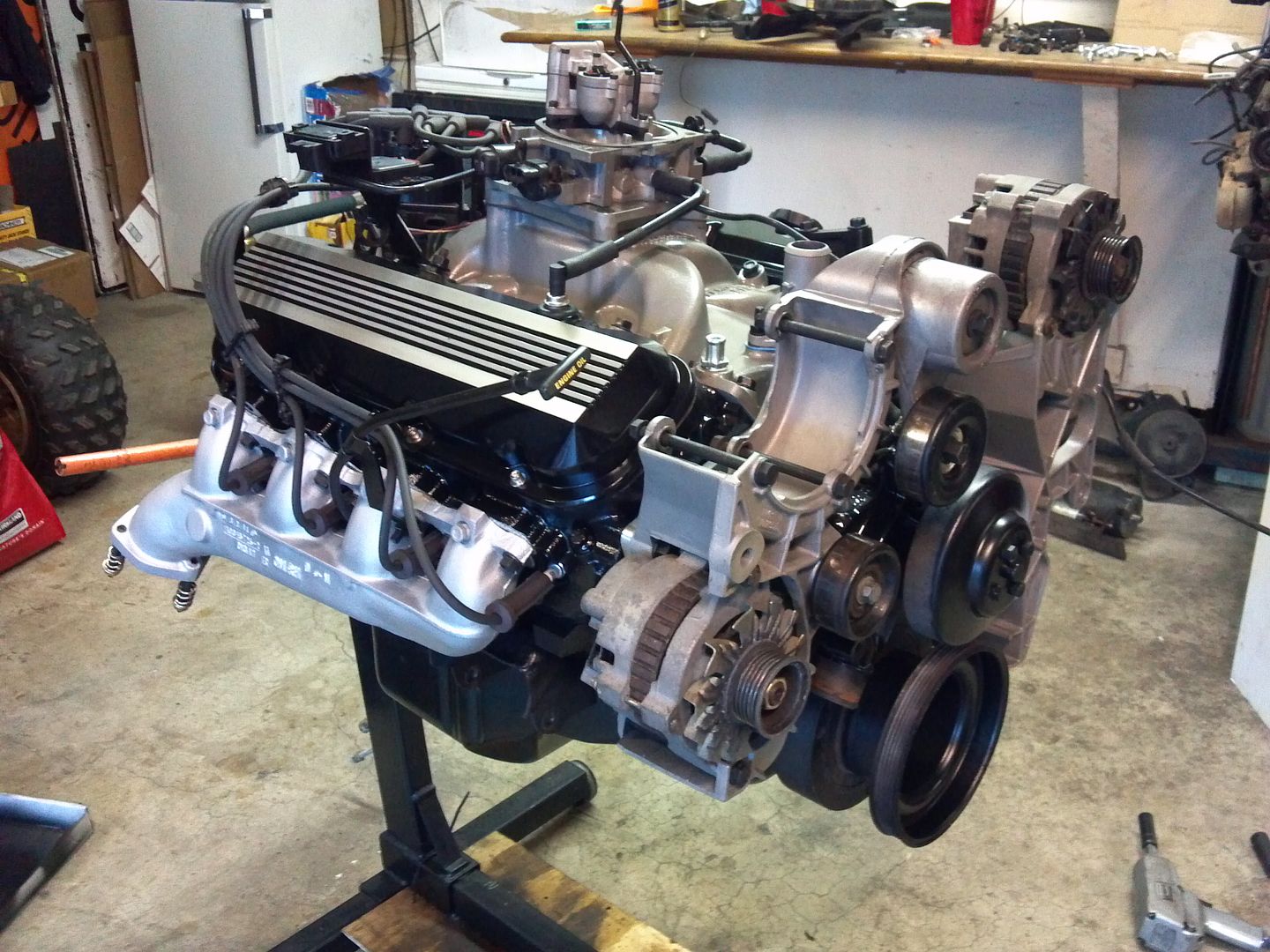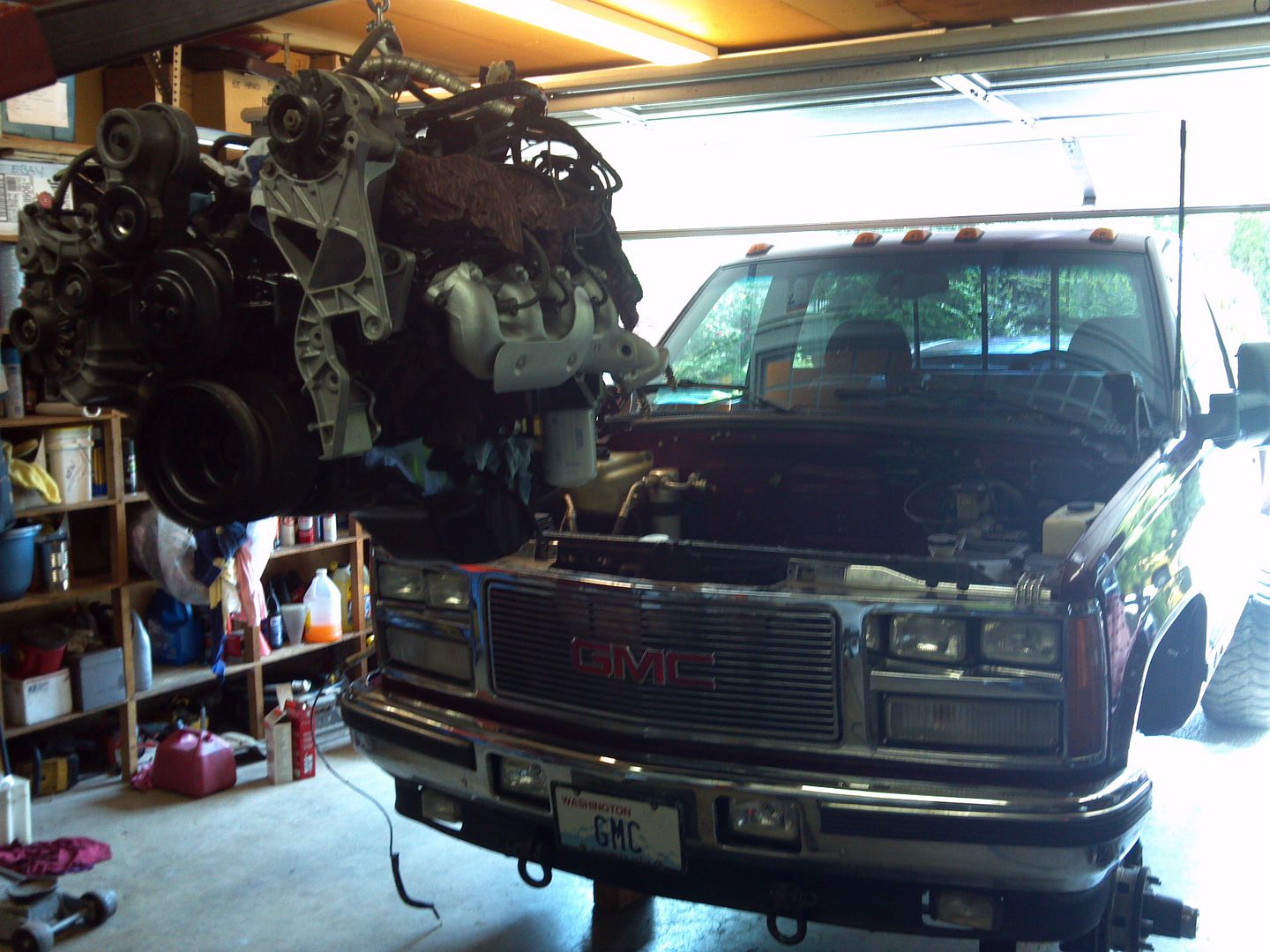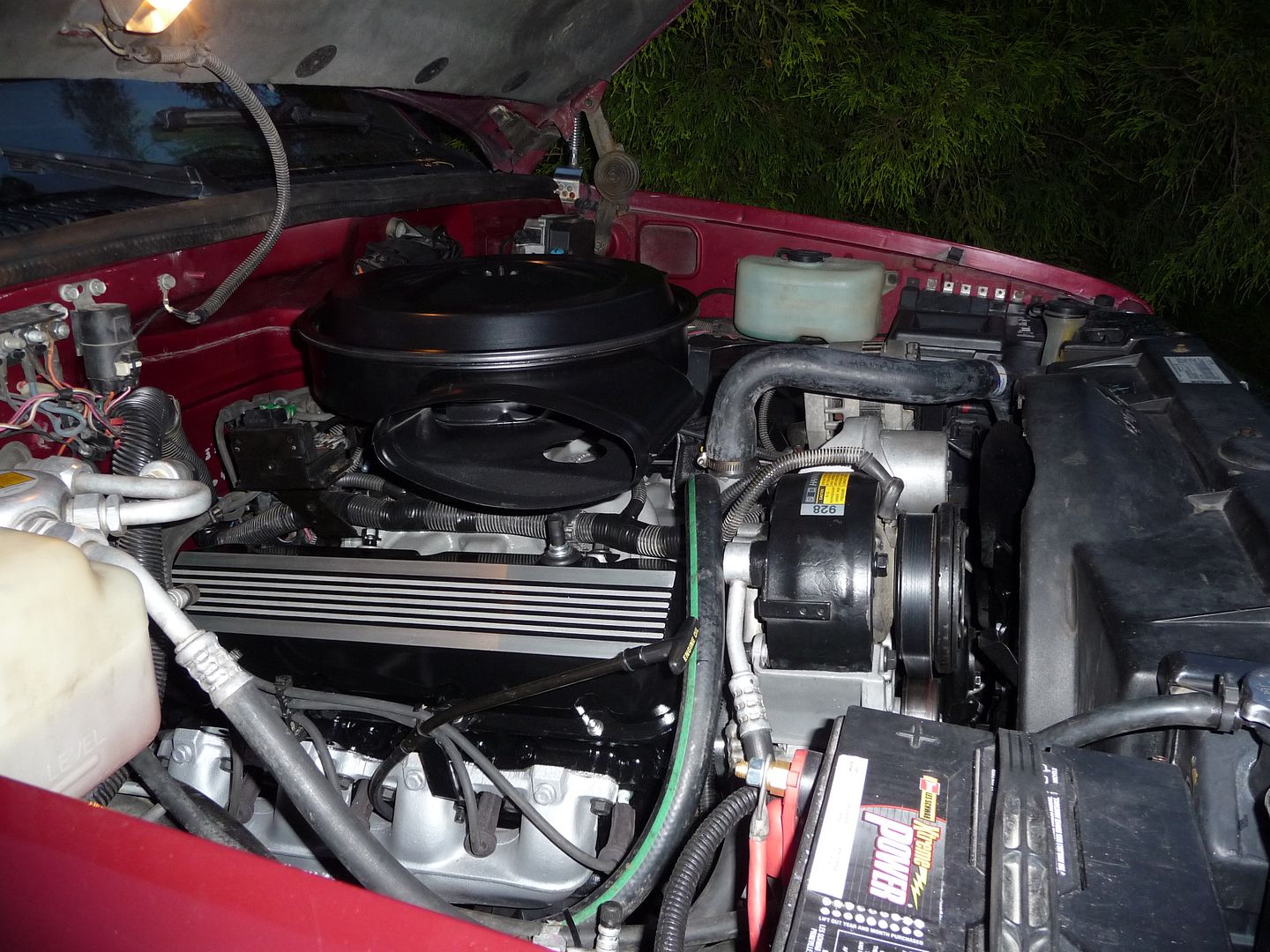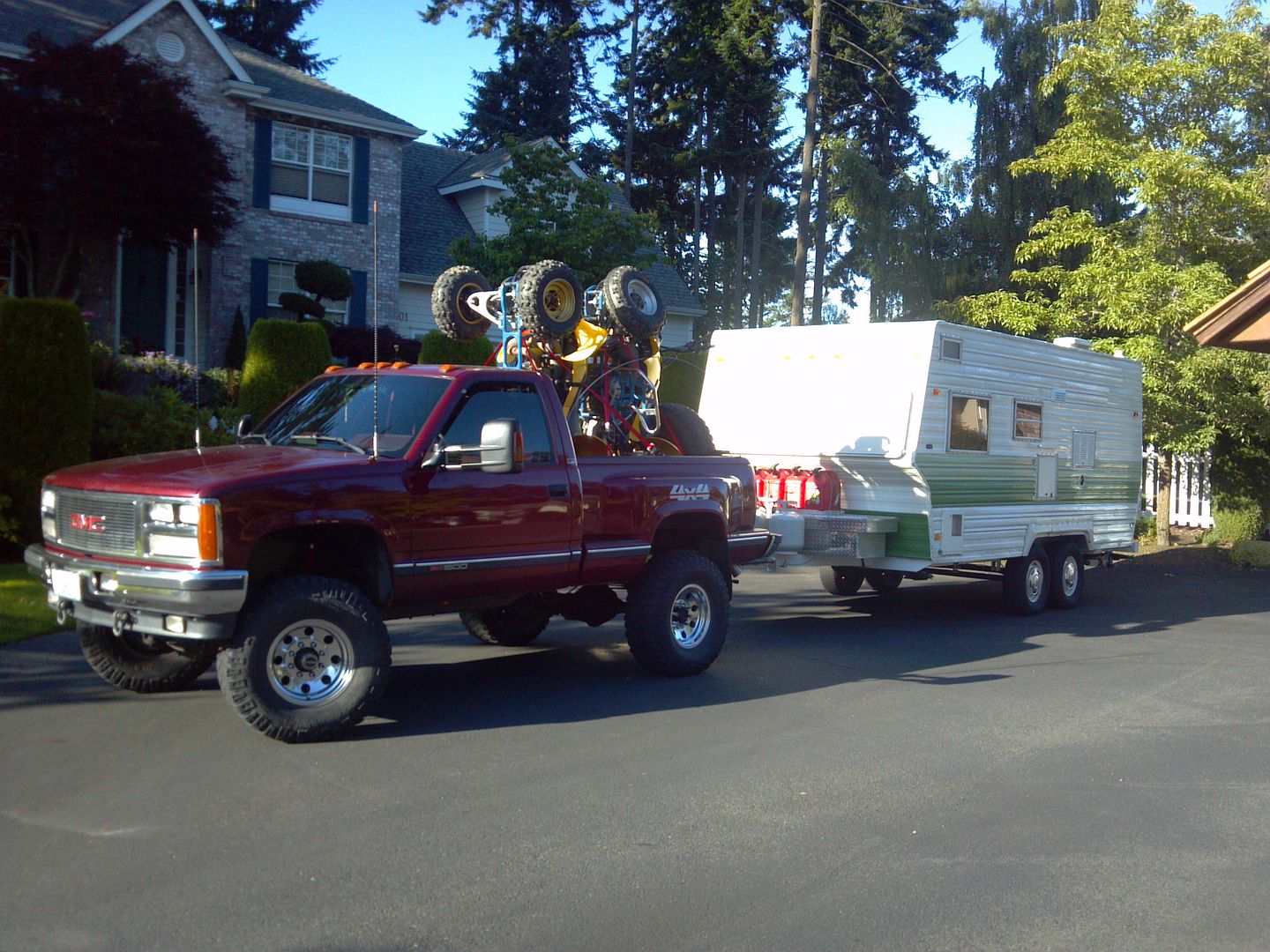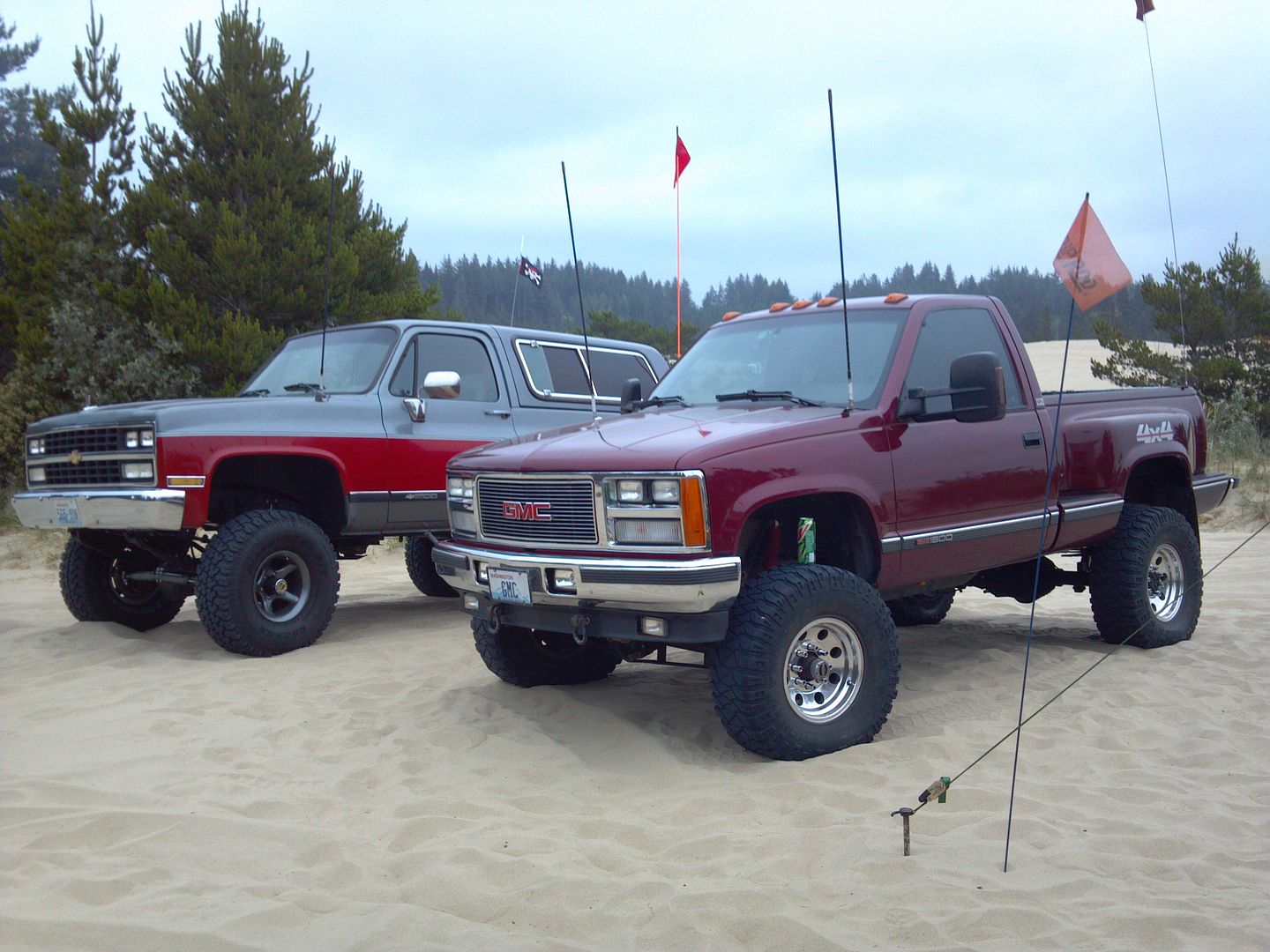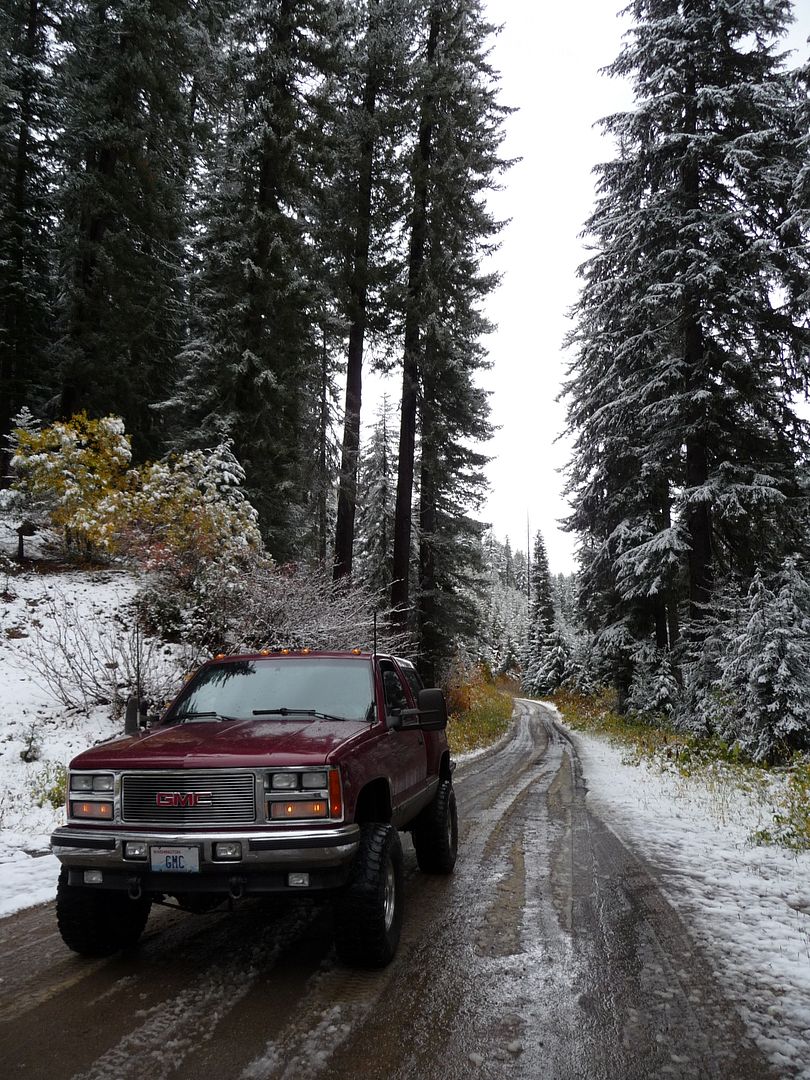 The almost 2 years of trailer towing took it's toll on the truck. By this time the combination of the 454's power and the weight of the trailer destroyed the springs, shocks and engine mounts. Combine this with the fact the original paint was really starting to show it's age, and reality of using a lifted standard cab truck to haul quads and go camping it just wasn't panning out anymore. In late 2013, my lifestyle prompted me to purchase the 98 Dually most of you should be familiar with at this point. I had basically stopped using the 88 as it needed so much to get back to being a fun driver again. I parked it in a carport in my back yard and it sat most of the time, I started it up and drove it every once in awhile but not near often enough. The carport kept the rain and pine needles off it but the moisture was still present and it didn't do the truck any favors, particularly on the aluminum parts.
Last edited: